Welcome to the Arbor Academy of Art & Gallery
2421 E. Colorado Boulevard •  Pasadena  CA  91107  •  626-239-3153
The Arbor Academy of Art & Gallery is run by artists for artists and their admirers. We are a self-supporting service organization that supports the creative talent of its members, provides artists with the opportunity for the exchange of ideas, and promote public interest in the many fields of art.
For the Artist,
A home for the creative spirit and a place to be seen and appreciated.
For the Patron,
A place to experience traditional and cutting edge artwork based on themes by outstanding Southern California artists.
CONGRATULATIONS RON!
Ron, our Art Coach, was recognized as one of the best painting and drawing teachers in Los Angeles. Expertise, which aims to connect local people with experts, selected our Art Coach as one of 18 of the best out of 821 teachers. They used a defined set of criteria to determine the best.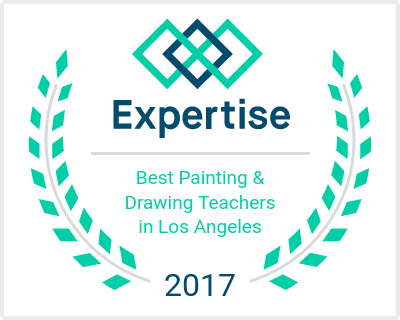 Luz Porlier, one of Ron's emerging students, is on the Summer 2017 cover of GFWC California Clubwoman.
See us on ArtSlant!
The Arbor Academy of Art & Gallery  can now be found on ArtSlant — Contemporary Art Network. There is general information about the gallery as well as a rotating gallery of work by Colonnade artists. Check it out at www.artslant.com/la/venues/show/50371-colonnade-art-gallery.
See us on YouTube!
See our latest video on YouTube called Pasadena's Hidden Art Treasure and don't forget to "Subscribe" to our new YouTube page. You can also see our newest video on our website's Video Page